West Nordic Day 2021 will be held on Thursday September 23 in Greenland, The Faroe Islands and Iceland to strengthen and put into focus the cultural collaboration between these 3 West Nordic countries.
In Nuuk NAPA has organised to separate and fascinating events in Katuaq. The first is a teachers' conference about the digital educational material "We are the West Nordic" under nordeniskolen.org. The second event is an open event titled "Our nature, our identity". The day will also be celebrated on The Faroe Islands and Iceland with different programs. In Iceland the Nordic House in Reykjavik will run a seminar about the possibilities in the West Nordic collaboration as well as what makes it unique, with participation from Greenlandic and Faroese representatives in Iceland as well as the West Nordic Council. Later, the movie SKÁL will be screened, with a Q&A afterwards. NAPAs program: 2 p.m. to 4 p.m.: "We are the West Nordic" – a teachers' conference for teachers of the oldest grades in public school. The baseline of the conference is the educational material "We are the West Nordic" found on nordeniskolen.org and address the teachers of the oldest grades in public school in the subjects Greenlandic, Danish, Social Studies and Personal Development. "The purpose of the educational material is to strengthen the students' understanding of their own and other West Nordic students' identities" says Director of NAPA Anne Mette Gangsøy. The conference will include presentations, short films, group work and self-reflection. During the conference, the teachers will get to know the educational materials for 7
th
to 10
th
grade. They will also get to look at the exercises through the students' eyes and solve them, so they can begin to use the West Nordic-focused digital educational material in their classes. Time and place: the Small Hall, Katuaq, September 23 at 2 p.m. to 4 p.m. There will be a light catering during the conference.
Sign up here on facebook
due to food ordering. The conference is organised by NAPA and Norden i Skolen. 6 p.m. to 9 p.m. "Our nature, our identity" – free event, all are welcome. "Our nature, our identity" For some, identity is linked to places, for others it's to the family name and for some it's even linked to the language we speak. On this West Nordic Day we will explore the identity that is linked to the nature among us. The nature in Reykjavik, Tórshavn and Nuuk affects us every day, more than it does in other major cities in the Nordic, such as Stockholm, Copenhagen, and Oslo. We can't live without nature, and throughout our history, it has defined our lives and destinies. How does our identity link to nature? How do we use nature in our daily lives, still upholding our respect for it? Those are the subjects that we will be taking a closer look at on this celebration of the West Nordic, and especially the Greenlandic nature. Program for the evening 6 p.m. Opening by Naalakkersuisoq Peter Olsen and Director of NAPA Anne Mette Gangsøy 6.10 p.m. Nordic Concert Choir 6.15 p.m. "Reindeer hunt in Greenland: Historically and Culturally" by Angutinnguaq Olsen 6.45 p.m. The NORDEN Association in Greenland 7 p.m. intermission 7.15 p.m. Nordic Concert Choir 7.20 p.m. "Nature, hunt and lifestyle" by Peter, Laila, and Arnaq Petersen Davidsen 7.50 p.m. "My Nature Tale" a storytelling performance organised by the Nordic Nature Narratives project, Eva Ritter and Jens Larsen 8.50 p.m. Nordic Concert Choir Time and place: Hans Lynge Hall, Katuaq, September 23, 6 p.m. to 9 p.m. The event is free and all are welcome The execution of West Nordic Day is sponsored by the Government of Greenland. Links: 
nordeniskolen.org
Nordens Hus i Island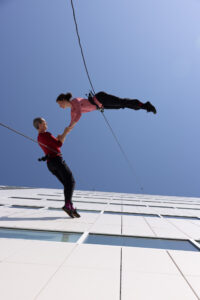 Dancer Maliina Jensen has, with the support from NAPA among others, brought the dance out of its usual settings, and awoken the curiosity of the citizens in Nuuk along with dancer Kate Lawrence. The end of July offered not only sunshine and heat, but also
Read more »