Dancer Maliina Jensen has, with the support from NAPA among others, brought the dance out of its usual settings, and awoken the curiosity of the citizens in Nuuk along with dancer Kate Lawrence.
The end of July offered not only sunshine and heat, but also an experience without equal, when dancer Maliina Jensen performed her dance project Dans over Hovedet, which can be translated to Dans above your Head, along with dancer Kate Lawrence.
On Grønlandsbankens south side people could watch from the parking lot, while Maliina and Kate, hanging several floors up the building impressed with their choreography.
For Maliina, the project was about bringing the dance out from the studio and into the cityscape in a form which would complement the architecture of the building, and attract the attention and curiosity of people passing by.
The dance installation happened from July 28 to the 31st and is produced by Maliina Jensen with the cooperation of Grønlandsbanken.
Dans over Hovedet – en danseinstallation som får dig til at kigge op was supported by NAPA, Sermeq Fonden, Nunatta Isiginnaartitsisarfia, GNC Aps. and Vertical Dance Kate Lawrence.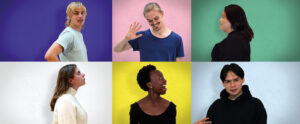 Six young actors meet in a performance at ZeBU, where they in the transition between reality and fiction discuss what being part of the Nordic family means to them – and what divides them.In the theater production Familien Norden, two Greenlandic, two Danish and two
Read more »