The Lost Norsemen: Meet the northerners – the Greenlandic Vikings
Explore the footsteps of the Vikings in Greenland's fantastic landscape and the ruins after them, and experience where and how they lived when Norse Theme Parks in collaboration with Trida Media takes you on the wildest journey through Greenlandic nature, where facts and fiction slide together.
Feel how you become one with past and present. Along the way, you will visit exciting old landmarks, which according to the UNESCO World Heritage Site are worthy of preservation for posterity and our understanding of both Viking and Inuit culture. Find out how – or about – the Norsemen, the Greenlandic Vikings, interacted with the Inuit, and what significance it had for Greenland. A virtual adventure that fascinates both big and small. Like being there yourself.
Get challenged and entertained, visit Nuuk and South Greenland with virtual reality, learn about Nordic mythology and the similarity with Greenlandic mythology.
The exhibition has become reality in close collaboration with culture house Katuaq, Royal Arctic Line, Air Greenland and NAPA – the Nordic Institute in Greenland.
www.greenlandontherocks.com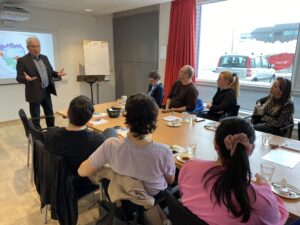 Greenland and world was the theme when the former Greenlandic politician and author Aqqaluk Lynge visited Wake up with NAPA On an otherwise quite ordinary Friday in Nuuk, we had a distinguished guest at our Wake up with NAPA morning event. The first Friday of
Read more »